39.99

33.99 - Add to cart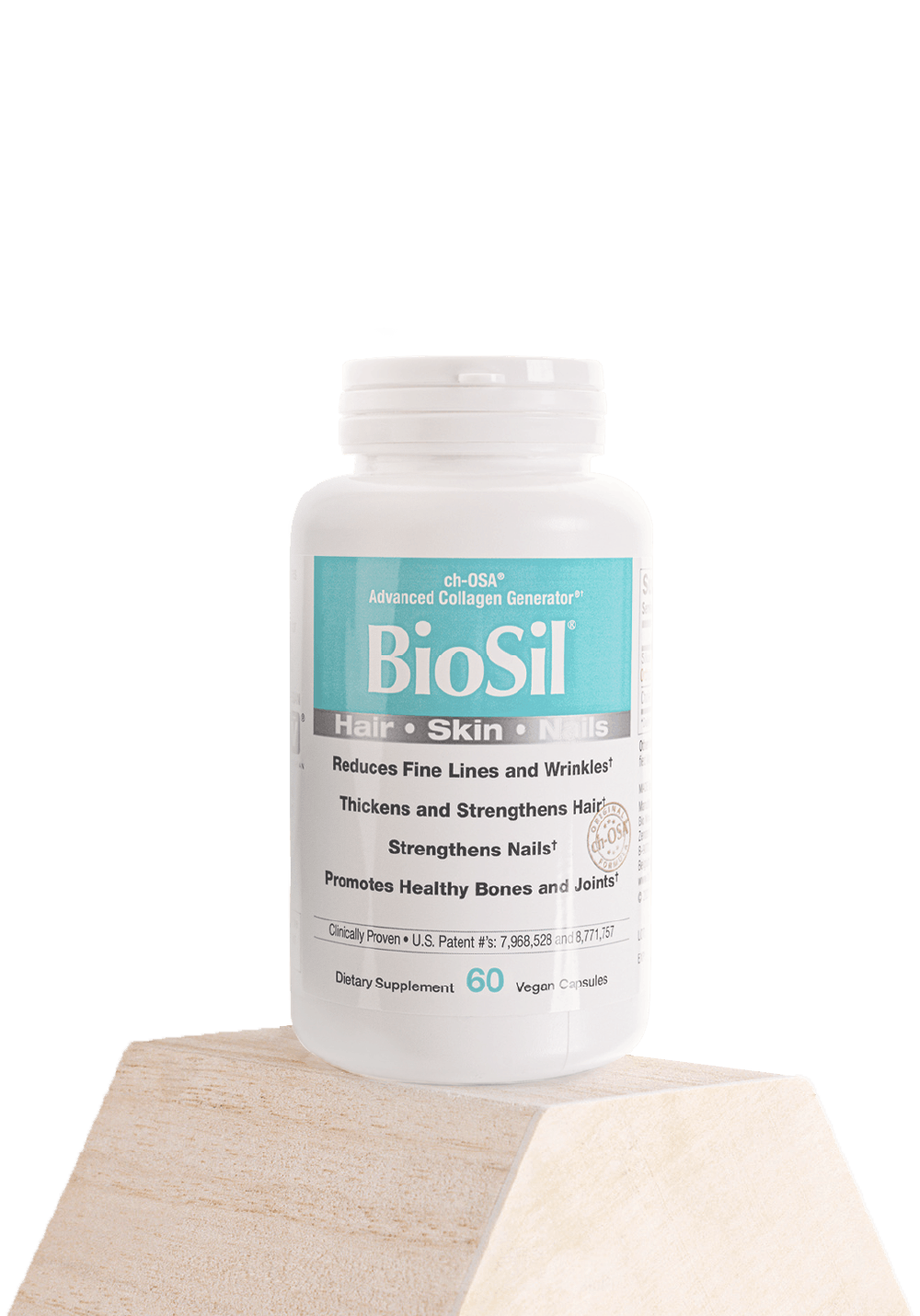 Collagen Generator
Biosil Original Capsules
These classic capsules set the gold standard for Biosil collagen generators. They're middle-sized and include granulated ch-OSA®.
See nutritional facts
$39.99

$33.99 - Add to cart
60 capsules for 30 days

FREE shipping on orders over $40

Subscribe & SAVE 20%

Also available in stores
Results you can see, feel and show.
The 2-in-1 effect of Biosil's patented ch-OSA formula supports and activates your body's natural ability to protect and generate its own collagen, keratin and elastin. The result? Luminous skin, luscious hair, and seriously strong nails.
We're not saying it. You are.
Showing our 4 & 5 star reviews
Backed by science
Not just tested—proven
Generate and protect your own collagen with Biosil. Biosil's uniquely effective ch-OSA® complex has been tested and proven to work in rigorous double-blind, placebo-controlled clinical trials.
Smoother, more youthful skin
Compared to the placebo group, after 20 weeks of taking Biosil daily.
University-led

Double-blind

Randomized

Placebo-controlled
Discover the science behind Biosil
Is there an order minimum?

There's no order minimum, but choosing the subscription option offers the best price.

How long will my order take to get here?

For one-time purchases, we offer free 3–4- business day standard shipping for orders over $40. In other words, if you order on Monday, your order arrives on Wednesday. Need your glow sooner? We offer expedited shipping for $8.99 to receive your order in 2 business days! As for subscriptions, they'll arrive every 30 or 60 days-whichever you prefer.

What are your shipping rates ?

We're happy to offer free 3-4 business day standard shipping for all orders above $40 and on all subscription orders. Single purchases under $40 will be charged $4.99 for standard shipping. We also offer expedited shipping for $8.99 to receive your order in 2 business days!

Is it safe to take BioSil® on an ongoing basis?

Yes. After more than 25 years and $20 million invested in research & development, studies have shown that there are no safety concerns for BioSil® when taken as directed. BioSil® is a complex that contains two nutrients (both standardly found in food) that are required by the body: choline and orthosilicic acid. Because we require orthosilicic acid in order to produce collagen, taking an OSA supplement daily is prudent.

Once I've started my BioSil® routine, how long should I continue it?

The human body produces collagen on an ongoing basis throughout our lifespan. Our skin, hair, and all of our tissues aren't built to last 100 years, but to be continually rejuvenated and replenished by the body's natural processes. In order to support these processes, which become less efficient with age, BioSil® supplementation can and should continue accordingly.

Is BioSil Vegan/Vegetarian friendly?

Absolutely. BioSil® does not contain any animal-derived products whatsoever.

How long does it take to see results?

The studies we base our marketing claims on ran for the following time periods: Skin: 20 weeks Nails: 20 weeks & 6 months Hair: 20 weeks, 6 months & 9 months Joints: 12 weeks Bones: 1 year Generally, people will notice some improvement to their hair, skin, nails and joints within 3 months. However, there is significant interpatient variability in response time. Standard biochemical individuality factors such as age, diet, genetics, exercise habits and other lifestyle factors will impact response times. As an example, patients with higher levels of compounds known to damage collagen or suppress collagen production such as homocysteine, cortisol, sugar (glycation) and advanced glycation end products and free radicals will often take longer than others. Also, patients with underlying diseases impacting collagen metabolism such as hypothyroidism, anemia or other low iron or iron metabolism issues, and/or autoimmune challenges may take longer to notice results.†